Click on the trip name to access the photo galleries.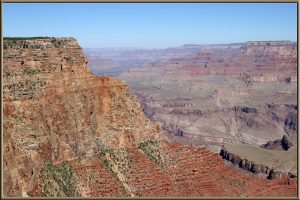 May of 2005 was the beginning of our motorcycle travels.  This was our first overnight trip by motorcycle.  However, we did cheat a bit on this one.  Valerie and I, along with two other couples, flew to Phoenix.   Once there, we rented bikes, one Harley and two Goldwings,  to use for the next 5 days touring up to the Grand Canyon.  We were rookies at motorcycle touring, but it turned out to be a great trip which sowed the seeds for future trips.
Colorado-Wyoming-South Dakota 2006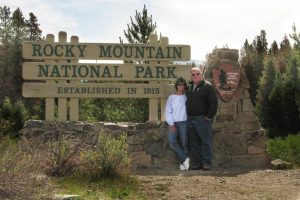 In 2005, Valerie and I were bitten by the "motorcycle touring bug."  At least I was.  So towards the end of the 2005 riding season, I upgraded to a tour bike, a Yamaha Venture.  I then began planning our first big tour.  This was our first real long ride, and we were doing it alone.  We tried our best to stay off of interstates.  We headed west through Missouri and Kansas to our first destination, Colorado.  Once in Colorado, we rode through the ski areas of Dillon and Breckenridge on our way to Rocky Mountain National Park.  From there, we went through Estes Park and on to Loveland.  We then turned north toward Cheyenne and on through Wyoming to the Black Hills of South Dakota.  We spent a few days touring that area and then started back east through South Dakota and Minnesota, where we stopped for a couple of days in Rochester, to visit friends.  I must say we were very lucky as rookie tour bikers.  The total trip was about 4000 miles, and we had zero problems along the way.  We were hooked.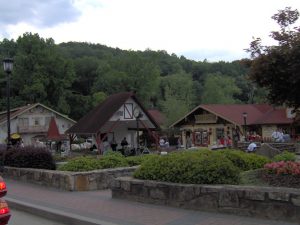 This was a weekend ride with a group of neighbors and friends, which from then on, became known as the Crosswoods Cruisers. We rode down to Helen, Georgia, also known as Little Switzerland.
After the great trip Valerie and I had in 2006 to Colorado, Wyoming and South Dakota, all of our riding buddies decided to join us on this trip.  The ladies flew in and out of Jackson Hole, WY.  The guys all left a couple of days before them.  We had 7 bikes on this trip.  Six of us left from Lexington and met the 7th in St. Louis.  This trip was quite an adventure.  I managed to have 2 flat tires on this trip.  One on the Unigo trailer and a rear tire on the bike.  I also lost a very expensive camera and lens (uninsured).  It was nice having all of the support with me.  From Jackson, we rode a clockwise loop through Yellowstone, on up to the west entrance to Glacier NP.  From there we turned east and took the "Going to the Sun" highway through the park.  We then dropped back down to Red Lodge, MT and then took Beartooth Pass back to Cooke City and the east entrance to Yellowstone, and then returned to Jackson.  This was one of our favorite trips.
After the success with the Glacier trip in 2007, we had a nice group on the trip to Utah in 2008.  The ladies flew in and out of Grand Junction, CO.  We met them there and continued on to Arches, Zion, Cedar Breaks and Bryce Canyon National Parks.  We also went through Monument Valley.  Along the way, we stopped in Page, AZ and took a boat tour on Lake Powell.  This is an area we need to return to again.
For our trip in 2009, we decided to stay a little closer to home.  We rented a house on Fripp Island in South Carolina.  From there we were able to visit Charleston, SC and Savannah, GA  On this trip, we traveled with Barb and John and joined up with their friend Debbie.  There was a lot of great seafood in this area.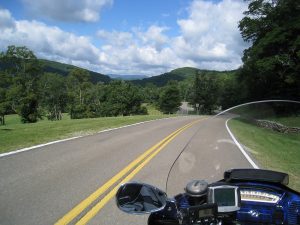 This was a weekend ride with our friends to the area where TN, VA and NC meet.  It's a beautiful area for a weekend ride.
This was just a dinner ride to Lambert's Cafe in Sikeston, MO.  We rode to Sikeston and had dinner.  The next day we rode to Nashville via the Dorena-Hickman Ferry.  It was a fun weekend trip.
New Mexico-Colorado-Wyoming-South Dakota 2010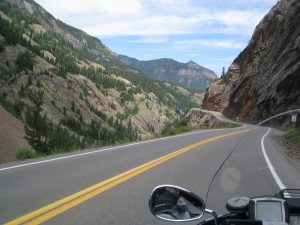 On this trip, we rode in a clockwise loop through Arkansas and Oklahoma and picked up I-40 across Texas into New Mexico.  We picked Valerie and Teresa up in Albuquerque.  From there we ventured to Santa Fe and then on to Durango.  From Durango, we took the "Million Dollar Highway" over the mountain with stops in several of the mountain towns like Silverton, Telluride and Ouray.  We made our way on to Dillon and then through the Rocky Mountain National Park with a stop in Estes Park.  From there, we dropped Teresa at the Denver airport and then continued on north into Wyoming and South Dakota to visit the Black Hills area, along with Mt. Rushmore.  We then dropped Valerie at the Rapid City airport.  After leaving the airport, we rode hard and made it home in 2 days.  We covered about 1300 miles in those 2 days.  For a map of this trip click this link:  MAP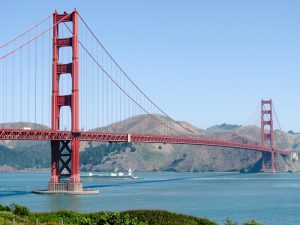 In 2011, we bought a new Goldwing.  To break it in right, we decided to head to the west coast.  Mike, Larry and I, along with Phil in the chase car, left a few days before the girls and headed west.  We headed northwest through Nebraska, South Dakota, Washington and on into Oregon where we picked Valerie and Teresa up at the Portland airport.  From there, we traveled down the coast to San Francisco and Monterey.  We then turned east through Yosemite National Park.  We then went southeast by Death Valley and on into Las Vegas.  The girls flew back from Las Vegas and we traveled on home via I-40.  For a map of this trip click this link: MAP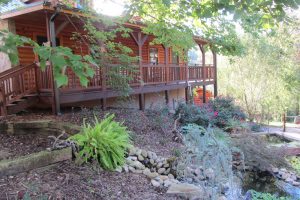 Valerie and I took a fall weekend ride to Tellico Plains, TN.  We stayed at the "Lodge at Tellico,"  a very nice log cabin lodge made up of cabin duplexes that cater to bikers.  On Saturday, we rode across the Cherohala Skyway to Robbinsville, NC.  Then we rode north on 129 through Deal's Gap, the "Tail of the Dragon."  We then turned around and reversed the trip back to Tellico Plains.  It was a great weekend to ride, but Valerie thought it was a bit cool.
Here are a few photos taken by one of the roadside photographers along Deal's Gap.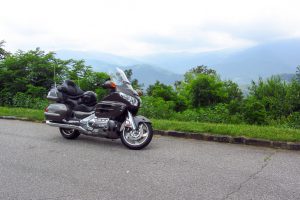 This trip was just a weekend get-away to Lake Lure, NC.  On Saturday we took a ride into the NC mountains.  That evening we took a lake cruise to a lakeside restaurant for dinner.  It was a very nice weekend destination.  Here is the map link: MAP
Glacier and Grand Tetons National Parks 2012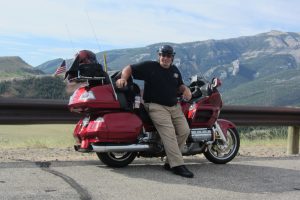 This trip was somewhat of a duplication of our 2007 trip.  Only this time, we went through Glacier on an east to west track, so things will look different.  On this trip, we traveled in a counter-clockwise loop.  Since none of us had been to North Dakota, we chose to take a more northerly route, which was a few miles longer, so we could say we had been to North Dakota.  After going through Glacier, we traveled south through Idaho along the Salmon River, before we turned back east toward Jackson Hole, WY.  For a map of our route, click here: MAP   After going through the thousands of images from this trip, I felt I should comment on them.  These are not award winning shots.  They were taken by 6 cameras and a few telephones. Many were taken on the fly while holding the camera in the left hand and the throttle in the right.  Many of them I show only to give those that have not traveled out west a sense of how desolate some of the areas are.  In this group of photos, you will see quite a few photos of Max Hellmueller.  Max was one of our riding buddies, and he was unfortunately killed in a motorcycle accident in 2015.  Max was a retired firefighter and an all around great guy.  He loved to travel, so this gallery is sort of my memorial to him.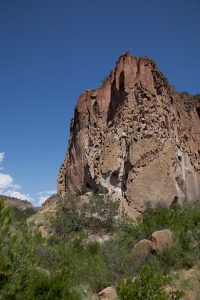 On this trip, we were following a cloverleaf tour that was in Roadrunner magazine.  It called for 4 day rides in a cloverleaf fashion out of Taos, NM.  It sounded good in the magazine, however, we weren't really impressed with Taos.  After the time in Taos, we headed back into Colorado via Durango and Telluride.
South Dakota-Wyoming-Colorado 2015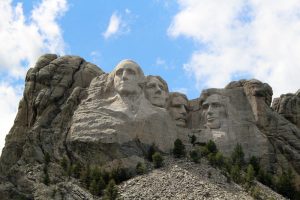 On this trip, our Florida friends, Jack and Rose, drove up to KY to join Larry, Valerie and I on this adventure.  We crossed the Mississippi River at Hannibal, MO.  Our goal was to avoid interstates as much as possible.  We continued on through Missouri to Nebraska and on to South Dakota.  We spent a few days touring around the Black Hills area, including Mt. Rushmore, Custer State Park, Deadwood, Spearfish Canyon and Needles Highway.  We then traveled south through Wyoming to Colorado, then went back to Rocky Mountain National Park and on to Dillon, CO.  From there, we started making our way back east.